We are converting to a new Debit and ATM Card System
On July 25, 2022, United Trades FCU will convert to a new Debit & ATM Card Processor.  This change will allow us to offer the latest technology available and continue to provide the highest level of fraud protection at an affordable cost to our membership.  As we complete this upgrade, here are some important details you need to know.
Will my current United Trades FCU debit and ATM card work after July 25?
Yes! Your current card will continue to work as usual with one exception. You will no longer be able to use your card at an ATM bearing the Accel logo.  You can continue to use your card at any CO-OP ATM. We are also introducing a new ATM network, NYCE.  You can start using your card at any ATM with the NYCE logo.  When your current card expires, your new card will have our updated ATM network logos on the back.

Will my recurring payments that I pay using my United Trades FCU debit card be impacted?
No, this system conversion will have no impact on your recurring payments.  Those payments, such as a gym or home utilities, will be processed as usual.
How can I tell if my card is a debit card or an ATM card?
Our debit cards are a dark blue color and have the word "DEBIT" printed above the VISA logo.  These cards have EMV chips, work at ATMs, at Point-of-Sale machines, and for online purchases.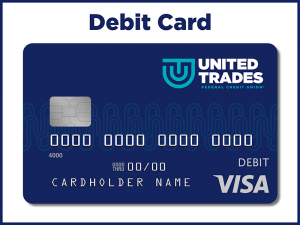 Our ATM cards are grey and have a Union Pride symbol.  They are connected to Local 290 Vacation Fund accounts.  Our ATM card does not have an EMV chip, or a VISA logo and can only be used in an ATM.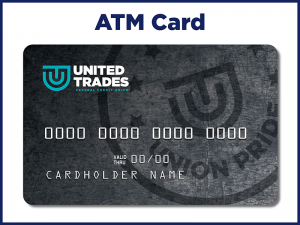 Will my card continue to work while you are changing systems on July 25?
Yes, your card will continue to work.  However, on the morning of July 25, during the several hours that our data is converting, your card may have a lower-than-normal daily transaction limit.  If you are planning to make a large purchase with your United Trades FCU debit card, please contact us at 503-283-5193 for more information.
What new features will be available with this card conversion?
We have many new features with our conversion. The most exciting is the introduction of contactless payment and cards available in digital wallets for our debit cardholders. We are also adding a new ATM network, NYCE.  The addition of the NYCE ATM Network will add thousands of surcharge free ATMs available to our members.
What digital wallets will my United Trades FCU debit card be available on?
You will be able to use your debit card on Apple Pay, Samsung Pay and Google Pay soon after our conversion.
We are working on getting our credit cards available in these digital wallets soon!  Stay tuned for launch dates!
Will I still be able to use CO-OP ATMs?
Yes! CO-OP will remain an ATM network for our debit and ATM cards. We are only dropping the Accel Network.  ATM cardholders will be able to use cards at any CO-OP or NYCE Network.  Debit cardholders will be able to use their card at any ATM with the CO-OP, NYCE or VISA/Plus logo.
Where can I locate ATMs for this new NYCE Network?
You can use the NYCE ATM Locator from nyce.net/consumers/atm-locator.  Just enter your address or ZIP and click 'Search'.
I have more questions.
Please Contact Us with your questions.  We're happy to help!